As one of the leading providers of wine tours (maybe even THE leading provider) in Western North Carolina, we end up at wineries often, very often and we're super stoked about it! We have vehicles at the wineries constantly from the vineyards around Asheville, Hendersonville, and Tryon up to the Appalachian High Country, and way over in the Yadkin Valley. We cover a large area and as a fortunate result, we get to visit a lot of the wineries around North Carolina as well as the upstate of South Carolina. When we are out and about with clients for the day enjoying all of these wineries and vineyards, everyone from our guests to our drivers eventually needs to eat! While some of our frequent stops have kitchens with full blown food options (love me the PB burger at Parker-Binns Vineyard!), others rely on the ever revolving schedule of one of Americas great contributions to the culinary world…
The Ordinary and Extraordinary Food Truck!
Known by many names…the roach coach, chuck wagon, dining car, lunch wagon, gut truck, mobile canteen, or the more commonly used name, the food truck. They have been around for a long time (think chuckwagons of the old west) but the recent renaissance of the classic food truck has food lovers everywhere celebrating as they bring gourmet food options to an area previously unserved. They also allow popular places, like wineries and breweries that don't want to invest in a kitchen or restaurant, have a great food option during their busy season with a menu that can change weekly. It is a win for everyone!
So Many Choices!
With the current (and growing!) popularity of food trucks there are a lot of folks out there to meet the demand with their own unique offering on wheels. Some of them are quite clever in their branding, name and niche that they offer, and all of them are focused on making great food. There are so many great food trucks out there that we have experienced in our travels throughout North and South Carolina wine country so we thought it would be fun to list just a few of our favorites (in no particular order):
Southern on Wheels
We thought we would start off up in the Yadkin Valley with a food truck we love seeing at the vineyards. We encounter them often at Piccione Vineyards and always look forward to placing an order and enjoying one of their signature Southern dishes. Southern on Wheels is the food truck of their brick and mortar restaurant, Southern on Main located in downtown Elkin, across from The Wisdom Table. One of the nicest things about Southern on Wheels aside from their great tasting offerings are their prices. They have the best prices on their menu and everything, in our opinion, tastes great! Our favorite: The Wilbur. The Wilbur is a pulled pork sandwich with BBQ sauce and pimento cheese. It is so delicious!
Eleven80
Like Southern on Wheels, Eleven80 is a food truck inspired by a successful restaurant. Eleven80, the restaurant, is based in the high Appalachian town of Boone and after the owners fell in love with Grandfather Vineyard, they opened the Eleven80 food truck that is somewhat permanently stationed at the vineyard. This is good news for the vineyard as well as anyone who is visiting the area as the food is exceptionally good and we always look forward to taking people there and sneaking over to grab a bite. Our favorites: The Parisian Sandwich and their Fried Brussels. Both are very good individually but together are a culinary match made in heaven!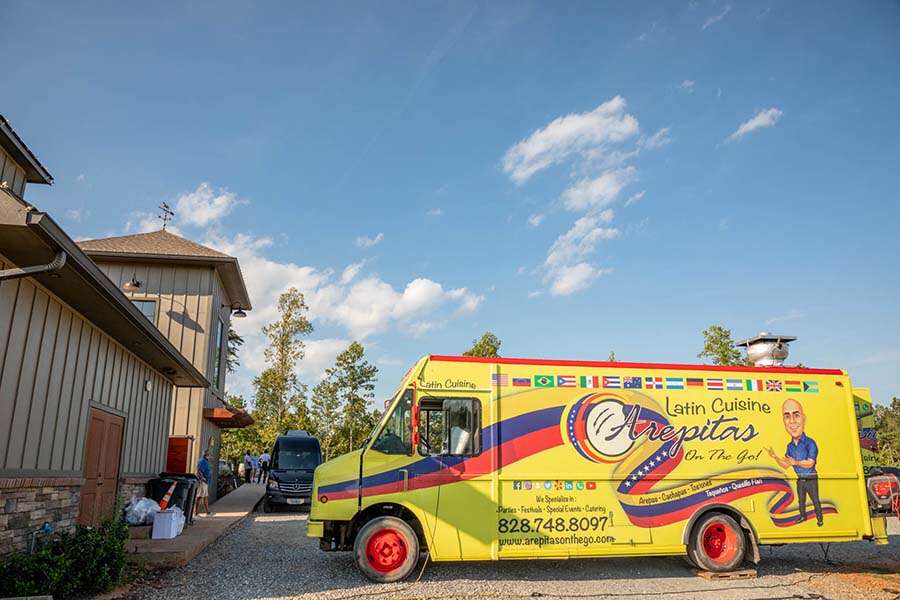 Arepitas on the Go!
Next we head down to the wineries around Asheville and one of our all time favorite food trucks, Arepitas on the Go! They feature Latin faire, specifically from Venezuela, Cuba, and Honduras. Gus and Rosie, the proprietors, are super nice people who cook up consistently amazing offerings in their brightly colored and fun looking truck that is always nice to see when you pull up to a winery or brewery. Their arepas are to die for. You can't go wrong with anything on the menu but some of our favorites are their mushroom and spinach, chicken and steak arepas along with their tacos and authentic tequeños. Their fried yucca is great too, Terri's tip is to ask for "old school" style as they have two versions that they offer and she prefers "the original", "old school" style. Save room (if you can) for desert. The quality and consistency of Arepitas on the Go will have you hooked! While you can find them at their regular location off Hwy. 64 each Thursday afternoon for lunch, you'll probably be like us, checking out their schedule to see which vineyard, brewery or parking lot you can find them at next!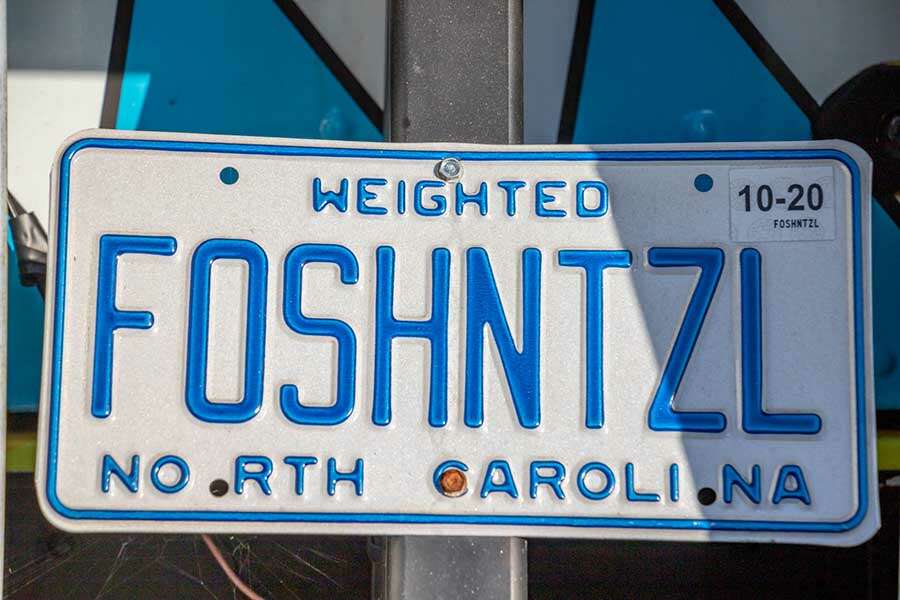 Haus Heidelberg
Another food truck spin-off from a brick and mortar restaurant, this one is Haus Heidelberg; which, if you have never been to their location just South of downtown in Hendersonville, NC, you are missing out on some of the best German food you will ever have this side of the Atlantic! Their food truck is no exception, although the menu is expectantly reduced from the full blown menu offered at the restaurant, you can still find some of their tried and true favorites; all of the gems that you would expect to see and want to try if you are not familiar with German food. We highly recommend the schnitzel sandwich on a pretzel bun along with their authentic house salad.
I could go on and on with more great recommendations. Perhaps I will need to publish a "Part II" post in the near future to give shout-out's to a few more great food trucks in the area. I will definitely enjoy doing my homework by sampling as much food as I can from different food trucks. It's a tough job but someone's got to do it!
What Are Your Favorites?
I spent this entire article writing about some of my favorites but what are some of yours? Please leave a comment below and let me know what some of your favorite food trucks are and where you have typically encountered them. This will help me with scouting trucks to sample for the Part II sequel to this article. I'm already looking forward to it!