Another great wine trail that is primarily associated with the Asheville and Greenville/Spartanburg areas is located in Hendersonville, North Carolina. This "Hendersonville Wine Trail" is host to three quality wineries along with with a companion cidery. Cider is just apple wine….right? This region is conveniently located less then an hour from Asheville, North Carolina and Greenville/Spartanburg, South Carolina making it a great option for anyone looking for a winery tours departing from these regions. The wineries are relatively close to one another as they are all located in Hendersonville East of Interstate 26. Once you arrive in the area the commute time between wineries isn't too long which makes for a fun day. This is an important benefit of a winery tour that many people don't think about, but having a short commute between wineries makes for a fun day! So, which vineyards make up the Hendersonville Wine Trail?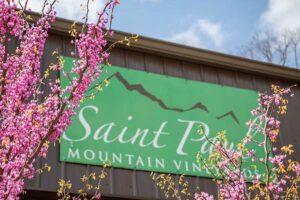 Saint Paul Mountain Vineyards
Saint Paul is usually our first stop when visiting the Hendersonville wineries. Tastings here are fairly generous as you get to sample all of their 14 wine varieties. This number may change as varieties come and go but the overall consensus from people after their visit is that they got to sample a lot of different wine. Most of the wines here are dry but they do offer up a couple of sweeter dessert wines at the tail-end of the tasting so there's really something for everyone. You can either enjoy a beautiful Carolina day out on the back patio, or if the weather is cooler, stay inside and enjoy the warmth of their massive fireplace. On busier days a food truck is usually present which makes for nice food pairing options.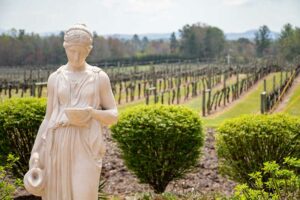 Burntshirt Vineyards
Burntshirt is a beautiful vineyard and winery with ample outdoor patio seating for those beautiful North Carolina days when you just want to soak up the sun and enjoy the weather. Located just a couple of miles from Saint Paul Vineyards, Burntshirt is an easy jaunt from one vineyard to another. This vineyard produces a large variety of wines, mostly dry, which can be sampled in their large tasting room. Decide on a favorite and enjoy a bottle outside. On busier days you'll also find a food truck available.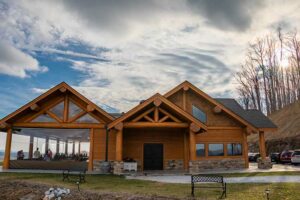 Point Lookout Vineyards
High atop a ridge on the eastern side of Hendersonville, about 7 miles from Burntshirt vineyards, is the picturesque Point Lookout Vineyards. Point Lookout features wines, mead (fermented honey water) and majestic views of the surrounding mountains. Point Lookout is always a great spot to end a day well spent visiting local wineries. You can relax on the patio and watch the sunset over the hills while you recollect all of the beautiful wineries that were visited that day. On Friday's and Saturday's you can stay to watch the sunset since Point Lookout is open later than most other vineyards in the area.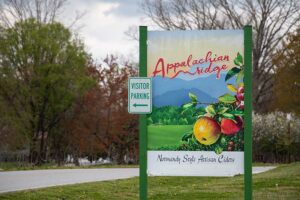 Appalachian Ridge Cidery
Appalachian Ridge is not a vineyard but an orchard. To change things up while touring the Hendersonville wineries, you should definitely consider taking the time to visit the cidery. It is conveniently located just across the street from Saint Paul Mountain Vineyards. Appalachian Ridge produces apple ciders from the local apple varieties that Hendersonville is so famous for. You can sit on the back deck and lookout out over a beautiful apple orchard while you sample their many ciders. This stop offers up a little variety to your tour and provides an optional fourth stop on your Hendersonville tour. Most of the tours we provide in this area end up stopping by the cidery. Even wine lovers enjoy tasting the cider and brandy options available at Appalachian Ridge.
The Van in Black provides a number of tours in this region. If you are visiting or located in Asheville or the Greenville/Spartanburg area, this region would be a great option to consider for a winery tour. We can transport you and your group (up to 11 people) safely to each winery (and cidery!) while providing local resources to answer any questions you may have about the area. All you have to do is contact us and then book your Hendersonville winery tour!