Click here to read our FAQs about our beer tours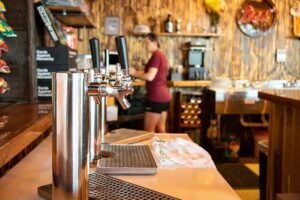 Whether you call it a pub crawl, brewery tour, or bar hopping, if you are impressed by rows of kegs, taps, or brew kettles, then a pub crawl is just the thing for you. With SO many breweries to choose from, along with their ever changing taps, no two pub crawls are the same! There are so many quality micro-breweries in the Carolinas which make both Western North Carolina and the upstate of South Carolina truly a beer lovers paradise!
The responsible (and lets face it, more fun) way to enjoy a good local pub tour is to have someone else do the driving. That is where the Van in Black comes in! Let us be your designated driver to chauffeur you and your friends to all of your favorite breweries around town. No one in your group will have to drive which means everyone in your party can have a great time. As long as your group is 14 people or less, you'll be able to fit everyone in the same vehicle; a stylish and comfortable Mercedes Benz Sprinter. You won't have to hassle with traffic, parking, navigation, etc. You just sit back, relax and enjoy the ride and maybe even crack open a cold one along the way to your next stop as NC allows open containers in 'For Hire' vehicles (that's us!).
Frequently Asked Questions about our Beer Tours:
What Regions/Areas Does Van in Black Service?
Our service area for pickup/drop-off includes Asheville, Charlotte, Greenville/Spartanburg, Tryon, Hendersonville, the high Appalachian cities of North Carolina (Boone, Banner Elk, Blowing Rock, etc.) and everything in between. This puts numerous breweries, pubs, and taverns within range of any tour that you book with us. Some of the more popular beer regions like Ashville have so many breweries available to visit that you could literally do a daily pub crawl for a week and not repeat any breweries.
Does Van in Black Help Plan the Itinerary?
Absolutely yes! We are more than happy to help plan your beer tour itinerary so that you have the best experience possible. We know the best places to visit based on our local experience and feedback from previous groups that we have taken on tours. There are also seasonal influences that should be taken into consideration and our experience and local presence can help with that too. Once a tour is booked with Van in Black we reach out and encourage you to ask questions and leverage our experience to ensure you have a 5-star experience when visiting our local breweries.
Do We Have to Pick the Duration of Our Tour When We Book?
No. Van in Black does not force you to book a tour duration when booking a beer tour with us. We have a 4-hour minimum on all of our bookings, but you are free to enjoy your day however long you want. You essentially book for the day but pay by the hour. If the weather is perfect and you are thoroughly enjoying the day, you can decide the day of your booking that you want to linger somewhere and enjoy the experience. Van in Black will never tell you that your time is up and that it is time to go. We want you to have the flexibility and freedom to enjoy your day however you want.
Can Van in Black Make the Necessary Reservations for Our Group?
When possible, yes but most breweries don't require or take reservations unless there is a restaurant and you are going to reserve a table. This actually gives you more flexibility with the day as you can just show up wherever you want and belly-up to the bar.
Can We Have Food and Drinks in the Van?
The quick answer is yes. We do, however, have a cleaning fee ($100) on our terms and conditions if things get out of control with the food and drinks. This will not affect 99.9% of the tours but is something we had to implement because of a few groups. We ask is that you treat our vehicles like you would treat your own. All of our vehicles get a thorough cleaning and vacuum in between all bookings so reasonable crumbs, etc. are not going to be an issue. Van in Black is also a legitimate "For Hire" vehicle in North Carolina (not all transportation providers are) which means that passengers can legally have open containers inside the vehicles. Give us a call if you have any other questions about this.
Do We Have To Meet Van in Black at a Pickup Location?
No. We prefer (almost insist) that we pick you up from a home, hotel, or Airbnb so that we will be dropping you off at a safe place after you have been drinking. It kind of defeats the purpose of hiring us if you have to drive after we drop you off. This is one of the main reasons why our clock starts when we pick up and not when we leave our garage (if you are inside our supported service areas). We want you to be safe and we don't want you to worry about driving.
Does Van in Black Have Elevated Experiences Available?
Yes! We have several options available to elevate your beer tour for guests who are a little more beer savvy. This could be something as simple as pairing you up with one of our drivers/guides that are certified beer experts (one of our drivers is a Cicerone!). If you are interested in something a little more elevated then give us a call to discuss.