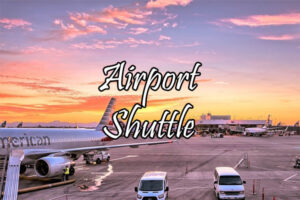 If you have a large family or large group of friends or co-workers, getting everyone to and from the airport with all of your luggage can be quite the chore! For a large group it's nearly impossible to get everyone where they need to be as vehicle size is a limiting factor as most people don't have a vehicle that is large enough for the extended family and friends traveling together. Sure, there are taxi's and ride-share companies, but most will not have a large enough vehicle, the end result is you could end up requiring multiple vehicles to get everyone safely to the airport on time. This is not the case if you use Van in Black! We can get up to 14 people, with all their luggage, to the airport in a single vehicle. Not only can you all ride together but you can do it with safety in mind, in comfort and in style!
Van in Black is licensed to operate shuttle services to the following major North and South Carolina airports:
Van in Black can also provide shuttle service to the smaller regional airports in Western North Carolina and the upstate of South Carolina.
So when you need a safe, comfortable and cost effective ride to or from the airport, contact us to work out a pickup schedule that works best for you, your family, friends and/or co-workers. We got this!