The town of Hendersonville, North Carolina is a great place to visit.  It is one of those places that is neither too small nor too large; it is just right.  It is large enough to offer great restaurants, shopping, and culture but not so large that it loses its small-town charm.  The downtown area is absolutely beautiful and is a great place to visit just about any time of the year.  Walking up and down Main Street is always a wonderful experience and Main Street is a great place to start for the first time visitor.  Despite the small-town charm, Hendersonville is large enough to boast a number of breweries within the city.  Great breweries that are all making great beer that can go head-to-head against any beer from the "big city" breweries.  This is not to put down the big city breweries but more to build up these smaller breweries.  Their beers are good!  If you want to visit Hendersonville and check-out some of these small pubs, here are four that we think make for a great pub crawl: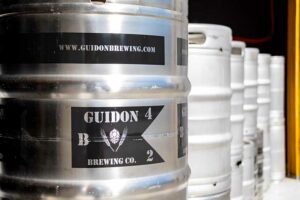 1. Guidon Brewing Company
Located on the North side of town, Guidon is a family owned and operated brewery that strives to make great beer and create a friendly and welcoming atmosphere where people just want to come and hang out.  At Guidon, you can either hang out at the bar, on the outdoor patio, at the cool lounge area upstairs, or throw darts downstairs.  There is always plenty to do and the food options available at the brewery or resident food truck are a bonus.  The staff is terrific and there is plenty of variety on tap.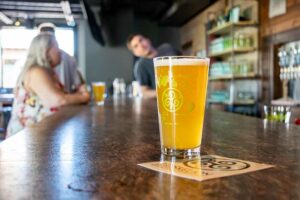 2. Triskelion Brewing Company
Just a few blocks from Guidon, also on the North side of town, Triskelion is a place that is not to be missed when visiting the breweries of Hendersonville.  A wonderful facility with an upstairs mezzanine that you can rent (it is very affordable!) for a private party or get together. In our opinion the mezzanine would be a perfect spot for a van full of people to rent out in order to upgrade their experience.  How cool would that be?  Of course, you would still want to go downstairs to check out the food truck, live entertainment, or maybe to throw some darts at the two boards they have against the back wall.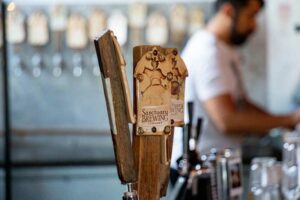 3. Oklawaha Brewing Company
Just off Main Street, Oklawaha Brewing Company (which used to be Sanctuary Brewing) is a fun place to visit as it is always a happening place.  Voted the best bar and live music venue 3 years in a row, one visit to this place and you will immediately see why; it's fun, relaxed, and cozy. A great place to visit and a perfect stop on any pub crawl in Hendersonville, NC.  Did we mention that they also have beer?  Lots of variety and even a few guest taps to keep it interesting.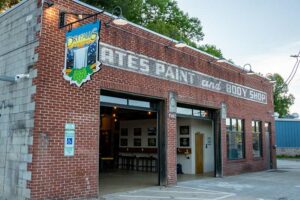 4. Dry Falls Brewing Company
The body shop turned brewery that is just a cool place to hang out and enjoy some suds.  Dry Falls is a Father and Son team that started out originally as a hobby, which then turned into an obsession, and now they own and operate a brewery together.  You just won't find a pair of brew masters with more passion than these guys.  They are living the dream, and lucky for the rest of us, they want to share it with you.  Dry Falls is always a great stop on a pub crawl and when you get there and experience the vibe, you'll see why.
Go visit these four great breweries in Hendersonville North Carolina!  You can either visit them yourself or make it a party and hire the Van in Black to safely drive you around town.  However you choose to visit these breweries, you will have a great time!  Please be safe and drink responsibly!