The winery industry in North Carolina is large and still growing!  There are so many high quality wineries and vineyards in the state that as a transportation company that provides winery tours as a service, it can make it very difficult to come up with suggestions when asked by clients – "What do you recommend?".  When faced with this question the first thing that needs to be determined is the region that the customer would like to visit.  Sometimes this decision can make the job in answering this question easy as there may be a limited number of wineries in that specific region.  That is NOT the case with the Yadkin Valley.  There are a ton a wineries!  And they are all great places!  Furthermore, one gets to know a lot of the owners and people that work at each of the wineries.  The Van In Black would like to visit all of them with every tour but unfortunately one has to choose and unfortunately some get left off the list.  The list, however, does change with each tour and we try to mix it up a bit.  If people have already visited one area or some of the wineries suggested, we can easily recommend others.  So, with all of that being said, this list is by no means the definitive "Yadkin Valley Trail".  It is just one of the many options and varieties of trails that can be put together for a custom tour of the area.  There are so many other great winery trails that we will also be describing in future posts.  For now, though, we will go with what we are calling the "Yadkin Valley Overview Trail".
When we get a group of people that have never been to the Yadkin Valley, this is a common trail that we recommend because it offers a wide variety of wineries that include a small boutique winery, a larger winery, a winery with a restaurant (which isn't very common for some reason), and then a couple of the more popular destinations in the region. It is a good mix that is always well received by our clients. So which wineries are on the list? We thought you would never ask: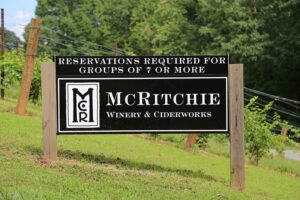 McRitchie Winery & Ciderworks
This is a small boutique / small batch winery that produces outstanding wines. You won't see epic mountain views or grand tasting rooms at McRitchie Winery but you will get to sample some excellent wine made by one of the great wine makers in the region, Sean McRitchie. Sean is the owner and the wine maker, he has an impressive resume that he will humbly never bring up in conversation. He has a long history of wine making in this region and has worked for a number of larger wineries throughout his career. He is also an important resource to many of the other wine makers throughout the state. His passion for making great wines led him to this plot of land in the Yadkin Valley where he now focuses on what he likes and is most passionate about; making great wine! We, as consumers, get to reap the benefits of his years of experience and fine tuning his craft. McRitchie Winery also produces a few dry ciders that may also be sampled in their tasting room. McRitchie Winery opens earlier than most wineries (10am) which allows for more tasting time when scheduling a winery tour.
McRitchie Winery is located on the north end of the Yadkin Valley which is a great starting point for this wine trail. We usually start on the north side and end on the south side of the Yadkin Valley (less commute time equals more tasting time).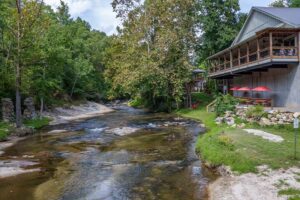 Roaring River Vineyards
About 15-20 minutes south of Jones von Drehle and McRitchie is the gem of a destination, Roaring River Vineyards. This is a beautiful spot and is always popular on our tours. It isn't a huge mega vineyard but it isn't too small either, its size is perfect! It is also located right on a river (hence the name) which makes for an almost therapeutic stop as you enjoy a glass of wine on their deck and get hypnotized by the sound of the river in the background. They also have a wonderful cafe, Chez Joséphine, on site with a full lunch menu. Clients typically place their lunch order upon arrival, then enjoy a tasting and then grab a glass of their favorite wine to enjoy when their lunch is served in the cafe. Roaring River Vineyards also has a number of beers on-tap for anyone who might want a little variety. This is one of the spots we always try to fit in on any tours we do in the region.
The next two locations are popular spots with epic views that everyone wants to see when visiting the Yadkin Valley. Truth be told, any first time visitors to the region should make it a point to visit both, as their epic views have been described as the Tuscany of the Yadkin Valley and we tend to agree.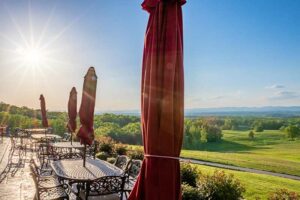 Piccione Vineyards
A picture is worth a thousand words and yet the pictures alone don't do Piccione Vineyards justice. The view is exceptional and almost indescribable. As you enter the estate and drive up through the vineyard, it becomes very obvious that this place is going to be special. Not only do you look out over the vineyard but the view continues way off into the distance where the sky meets the Blue Ridge Mountains. The incredible view is not the only reason to visit Piccione Vineyards, the exceptional variety of wines produced here will keep you coming back. It is hard to beat the experience of sitting on their outdoor patio with a glass of great wine to enjoy the view. With live entertainment most weekends, Piccione is a great vineyard to include on any tour and one we highly recommend on the Yadkin Valley Overview Trail.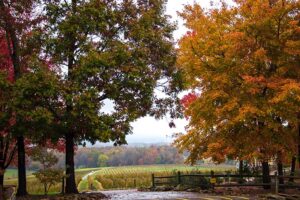 Raffaldini Vineyards
The other "must-see" popular spot in the Yadkin Valley, located right next to Piccione Vineyards, is Raffaldini Vineyards where the views are equally impressive, not to mention the wine. As you enter the vineyard and see the "villa on the hill" off in the distance, you know you have arrived somewhere special. The Tuscan-style estate sets the stage for the classic dry Italian style wines produced by Raffaldini. The tasting room provides a good sampling of the wide variety offered here. Choose your favorite from the tasting and grab a glass or a bottle to enjoy out on the patio by the fountain.
If you have been keeping track, that is a total of four vineyards named in our suggested Yadkin Valley Overview Trail. It is possible to visit all four on a single tour but it will be a full day. On many of our tours we do actually visit all four but it can be scaled down to 3 if necessary. Our suggestion for any winery tour is to have a loose schedule or itinerary as sometimes you get to a place and you want to linger longer than initially anticipated. Not only is that okay, but highly recommended. Go with what moves you at that moment. If you miss a winery, you can always book another tour and catch it on your next visit to the Yadkin Valley. Check out our blog article "So You Booked a Winery Tour. Now What?" for more information on planning a good tour.