As the holiday season approaches and you're looking for fun festive things to do with your family and friends, why not consider a chauffeured holiday lights tour? For some, viewing the extravagant light displays put on by small towns has become an annual tradition. There are so many great locations to choose from! You could load up the family car as usual or this year, try something different, hire a transportation service, the Van in Black, to drive your group to and through any number of these great locations. A few of our favorites include:
McAdenville, North Carolina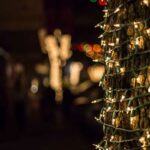 Affectionately known as "Christmas Town USA" the lights at this small town on the outskirts of Charlotte, NC are a sight to be seen! This town has been putting on their display of holiday lights continuously since 1956 and every year it seems to get bigger and better. It is open to the public and has always been free of charge. It can get exceptionally crowded on the weekends but it is open seven days a week from December 2nd – December 26th.
For more information visit: https://www.mcadenville-christmastown.com/
Forest City, North Carolina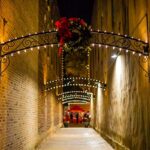 Forest City's slogan is "small town friendly" and while that friendly spirit is on display all year round, it's made even more special by over one million lights that provide a warm welcoming glow to Main Street. This picturesque small town in rural North Carolina is a little-known gem which is very impressive to see especially at this time of year when Forest City is transformed into a Winter Wonderland. The season begins on Thanksgiving night with the annual Tree Lighting Ceremony and the lights stay on until New Year's Day! The holiday events continue through the season with the Christmas Parade on December 1st, then holiday movies each Friday at the new amphitheater, POPS, Pavilion on Park Square. Each Saturday brings carriage rides, ice-skating and Santa himself to the small town with deep roots! Why not take the family on an excursion to see the lights of Forest City, Spindale, Ruth and Rutherfordton from the comfort of one of our chauffeured vans or SUV's?
For more information visit: https://www.townofforestcity.com/forest-city-christmas
Shadrack's Christmas Wonderland
A holiday lights extravaganza that is setup and run at various locations in North Carolina, Tennessee, Alabama, and Pennsylvania.  Tryon International Equestrian Center is now host to Shadrack's Christmas Wonderland!  There is a fee to view the lights but the cost is well worth it as this is a large production! It is over two miles of custom-made displays of lights that are coordinated to music as you drive through and experience each scene.  The two locations in North Carolina; Tryon and Charlotte, are both within our service area and we would be happy to have you experience them from the comfort of one of our vans or SUV's.  The large windows are perfect for enjoying the lights from within the comfort of a Van in Black vehicle where you can enjoy the sights and sounds of the holiday and leave the driving to us!  The Tryon International Equestrian Center location is also hosting their Winterfest Village with additional holiday activities that can be enjoyed either before or after experiencing Shadrack's Christmas Wonderland.  There are also some great local wineries that are just a few miles from the equestrian center.  You could make it a full day by visiting a vineyard for a wine tasting and then enjoy the night lights and holiday activities at the Tryon International Equestrian Center.  If you book a tour with the Van in Black, you can legally enjoy some wine in the van while we drive you through the holiday lights at Shadrack's.  The possibilities are endless for just an evening out or entire day of holiday fun!
For more information visit: https://shadrackchristmas.com/tryon-nc
Contact the Van in Black today and leave the transportation to us so you can just enjoy this holiday season!