Asheville is quite possibly the quintessential city for Western North Carolina experiences. The location is perfectly situated in the mountains and is either the direct host of the experience(an Asheville wine tour!) or the perfect gateway to it. When it comes to wineries, Asheville is both! While it doesn't host too many wineries, and none of them have vineyards attached to them, Asheville does directly host two wineries inside the city limits; one which has the unique distinction of being the most visited winery in America (more on this later). Asheville is also the gateway to a number a quality wineries and vineyards that are all less than an hours drive from the city. At the time of this writing, late 2019, there are at least ten quality wineries that are viable options for any Asheville wine tours. So if you are in Asheville and want to checkout the winery scene, there are some options to definitely consider.
Can't wait to get started on your wine tour? Then click here:
Inside Asheville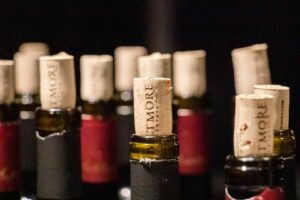 If you don't want to leave the city you have two options for wineries: Plēb Urban Winery and the Biltmore Estate. Note that neither of these will have vineyards attached to the wineries but both places make their own wines and have nice tasting rooms available for you to sample their wares.
Plēb is located in the River Arts District of Asheville and is a great area to visit and hang out. In additional to the winery, there are lots of restaurants, shops, and galleries, and even a few breweries to checkout. Plēb is easy to get to and is likely just minutes from any place you are staying in the heart of Asheville. They have a wide variety of wines to choose from and the staff is both friendly and knowledgeable. Their tasting room is huge offering plenty of space to hang out and enjoy the ambiance and, of course, the wine. Once you decide on your favorite varietal, see if it is available to take home in a can or get yourself a growler as environmentally friendly practices are in full swing here, so wine is stored in stainless steel kegs; it's available on tap or from the can. That might sound different, and it is, so try something different today!
The winery tasting room at the Biltmore Estate is located at Antler Hill Village inside the estate grounds. Antler Hill Village is a beautiful place to visit, hang out, and enjoy more than just the winery. There is also a great tavern (Cedric's Tavern), food, a dairy, retail shops, hotels, and events like live music that regularly occur at the village. While the winery is America's most visited winery, it is just a part of all that there is to enjoy at Antler Hill Village. While standard tastings in the tasting room are free, there's a small fee for tasting a flight of reserves only from the bar, however you do have to pay to get on the estate grounds unless you are a season pass holder. Biltmore has a large variety of wines to sample and purchase at their winery which is open year round.
Outside Asheville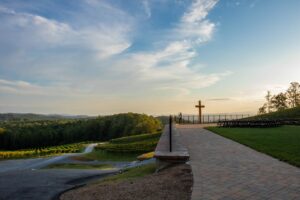 If you are willing and able to travel outside of Asheville your options for visiting wineries significantly increase and the wineries will have onsite vineyards as well. There is something about seeing the rows of vines that completes the winery experience. It is quite beautiful and something you should try to include and experience on any winery tour. So what are the options outside of Asheville? Here are some areas to consider:
Addison Farms Vineyard is about 30 minutes northwest of Asheville in the small mountain community of Leicester. It is in a beautiful location with great mountain views in just about every direction. Addison Farms produces a good variety of wines along with a few meads that can all be sampled in their tasting room that overlooks their vines.
East of Asheville on Interstate 40, near Lake James, are two wineries that are about 45 minutes from Asheville – South Creek Winery and Silver Fork Winery. Both of these wineries are located in the foothills of North Carolina and produce a number of wines that you can try onsite in their tasting rooms. They are also located just minutes from each other making them a nice destination to checkout if you want a shorter tour that includes two quality wineries. They both have active event schedules offering year round activities and are definitely worth checking out if you are planning a visit to this region.
South of Asheville is currently the highest concentration of wineries that are within a reasonable distance of the city. There are currently two distinct regions; Hendersonville and Tryon.  There are currently seven wineries/vineyards in Hendersonville (about 45 minutes away) and four in Tryon (about 55 minutes away). The wineries in Hendersonville include Marked Tree Vineyard, Sawyer Springs Vineyard, Souther Williams Vineyard, Stone Ashe Vineyards, Saint Paul Mountain Vineyards, Burntshirt Vineyards, and Point Lookout Vineyards. The wineries in Tryon include Parker-Binns Vineyard, Mountain Brook Vineyards, Overmountain Vineyards, and Russian Chapel Hills Winery. We regularly tour the vineyards of Hendersonville and Tryon. Each region has it own uniqueness and charm that makes for a perfect day spent on a wine tour close to the Asheville area. There are also a number of breweries and cideries in the area that provide variety for those looking to explore that scene as well.
Book Your Asheville Wine Tour
With so many wineries located both inside and just outside of Asheville, there are plenty of options for you to create the perfect Asheville wine tour for you and your friends or family. The Van in Black is the premier provider of winery tours in the region and can not only work with you to create the ideal itinerary, we can also deliver it using either our spacious and comfortable Mercedes-Benz Sprinter vans or our luxurious SUVs. Give us a call or contact us to book your next Asheville wine tour!