Sure Spring weather can be fickle –a little sprinkle of rain, intermittent sunshine, some clouds, and maybe some serious gusts of wind that send you running for that jacket buried somewhere in the depths of your car, and now you are seriously rethinking the plans you made for a weekend of enjoying wine and the spectacular views of the Carolina Foothills. Well, as they say, the best-laid plans……can change!!
Rethink your weekend, outdoor wine adventure, and instead, indulge in an indoor immersive wine tour experience that will arouse all your senses! Come, join me, as we explore the exquisite barrel room at Mountain Brook Vineyards, but first, a very brief historical note.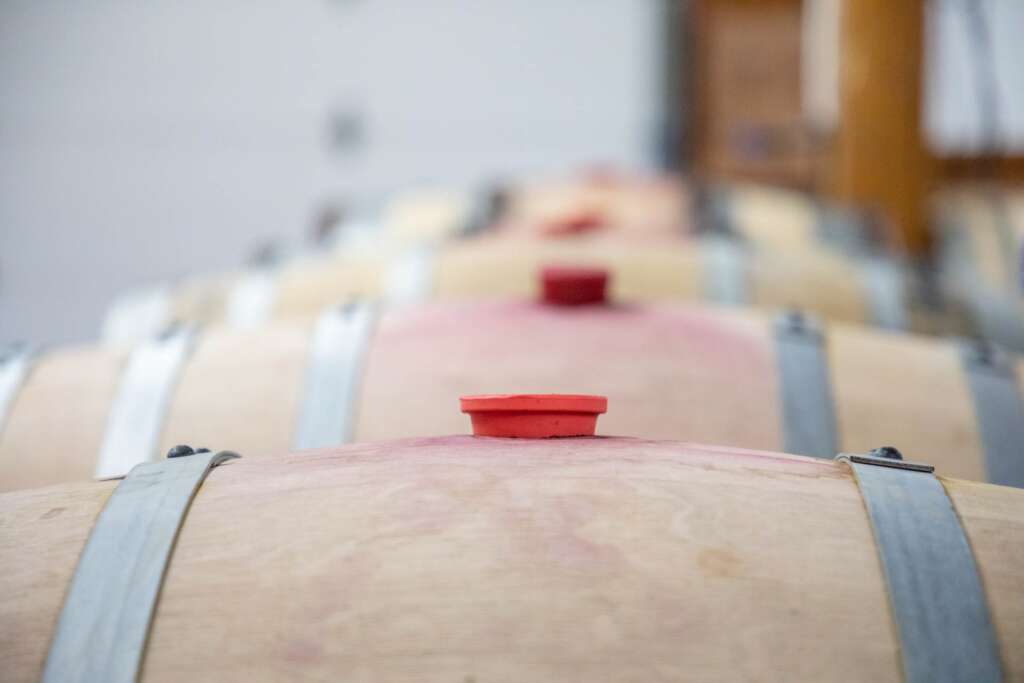 The use of wooden, cylindrical barrels, as containers for storage and transportation of goods dates back for more than 2000 years. Interestingly, Herodotus mentions palm-wood casks used in shipping Armenian wine to Babylon in Mesopotamia. There are varying opinions on where and when the barrels were first used, however, history points to the Celts who are thought to have developed barrels around the start of the first millennium. Utilizing wooden barrels for storage and transportation of a variety of goods makes sense. With their cylindrical shape, they were easy to handle, maneuver and roll, were able to withstand stress and could be stacked.
Now let's descend into the cellar! Once in the cellar your nose detects familiar, tantalizing, aromas – but you are having difficulty identifying them – ah! Is it "comfort"? Are you reminded of fall and fireplaces, a walk in the woods, baking spices, earth? Yes – that's it – and you realize that you are a little chilly, not surprising as the barrel room or cellar is kept at a cool 55 degrees, with little light, to ensure that the wine ages appropriately.
Step up, touch, and really look at that beautiful wooden vessel. What do you feel? What do you see? Fortunately, Richard Hadley, a member of Mountain Brook Vineyards wine and vineyard production staff, is on hand to guide us through the cellar. He explains that MBV utilizes both new and used French and American Oak, in standard sized, 59 gallon barrels often referred to as "barriques". Each barrel imparts a particular flavor profile. For example, and in broad generalities, French oak barrels are typically more subtle in tannin and spice, resulting in wines with a satin texture. American barrels tend to be stronger in flavor, with flavors often described as baking spices, vanilla, and coconut, and result in wines with a creamier texture. The North Carolina oak barrels impart a more intense, more tannic flavor profile. Richard also shared that there are numerous variables when it comes to oak aging, for instance utilizing different barrel producers, different levels of toast, which is the heating of the inside of the barrels, note the H (high) and M (medium) embossed on some of the barrels, and the difference in barrel aging philosophy which is normally driven by the winemaker. Some winemakers may age their wines for a few months or a few years. Richard noted that MBV ages its' reds typically for about 15-24 months.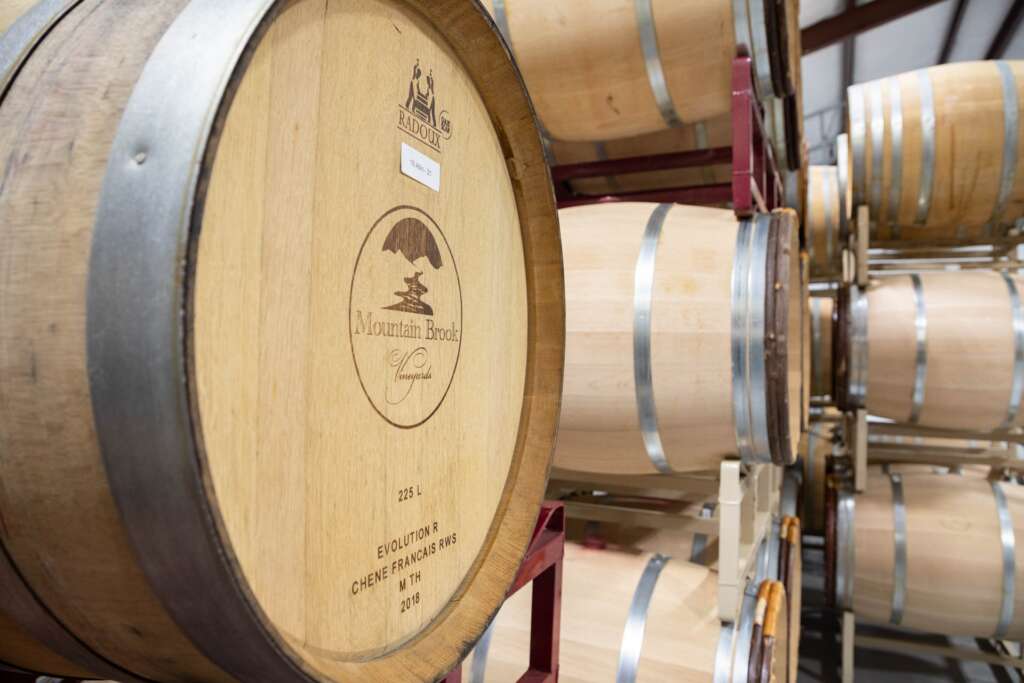 Note the barrel tags that provide information regarding the vintage, variety, when they were filled, and barrel number. With all of the aging wines to keep track of, this system is crucial for the winemaker and production staff.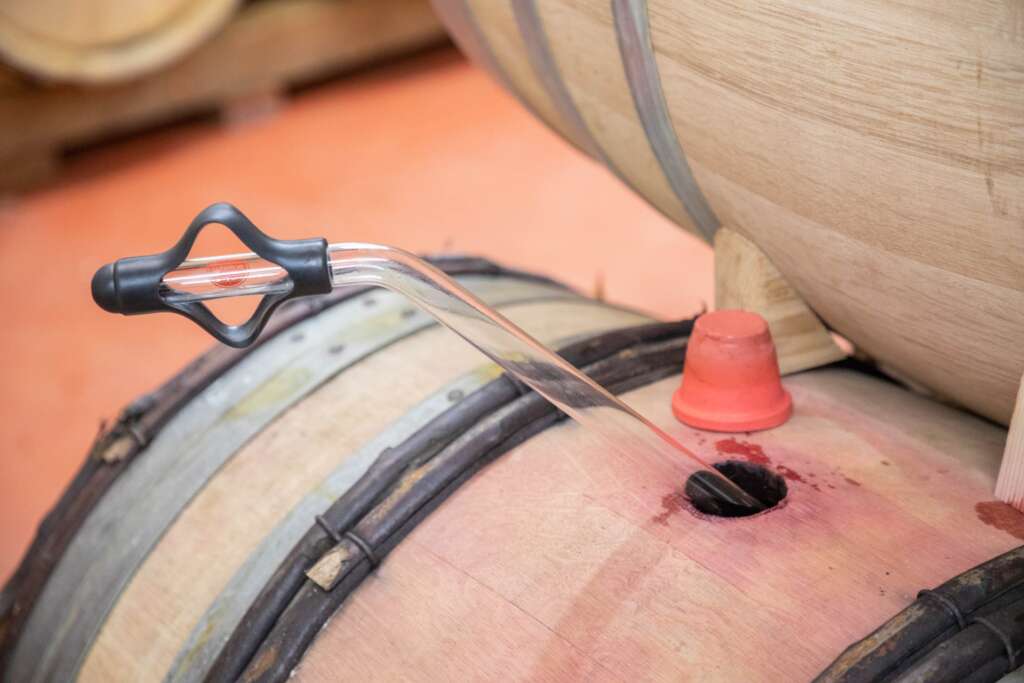 Now let's taste! Richard takes a "valenche" or more commonly known as a glass wine thief, and carefully extracts a small amount of young pinot noir from the barrel, and pours it into a wine glass. Then, he shows us how to swirl the glass, then smell, and then taste. He notes that most guests are surprised by the youthfulness of the wine and explains that the wine is in progress and not as balanced as the finished product will be. He also notes the relatively strong aromas and cloudiness. Again, he reminds us that we are tasting the "raw product" so to speak, and the aging process may take at least one year, but not more than 2 years, again, depending on the varietal and the winemaker's decision on the finished product.
At the time of this writing, MBV is producing the following wines: Cabernet Sauvignon with varietals from California and North Carolina; a North Carolina Merlot; Nebbiolo, which is to be bottled in April 2022; a Syrah, Tannat and Pinot Noir from California varietals; a North Carolina Pinot Grigio; and a Riesling produced with varietals from New York. MBV's BDX is scheduled to be bottled in April, 2022.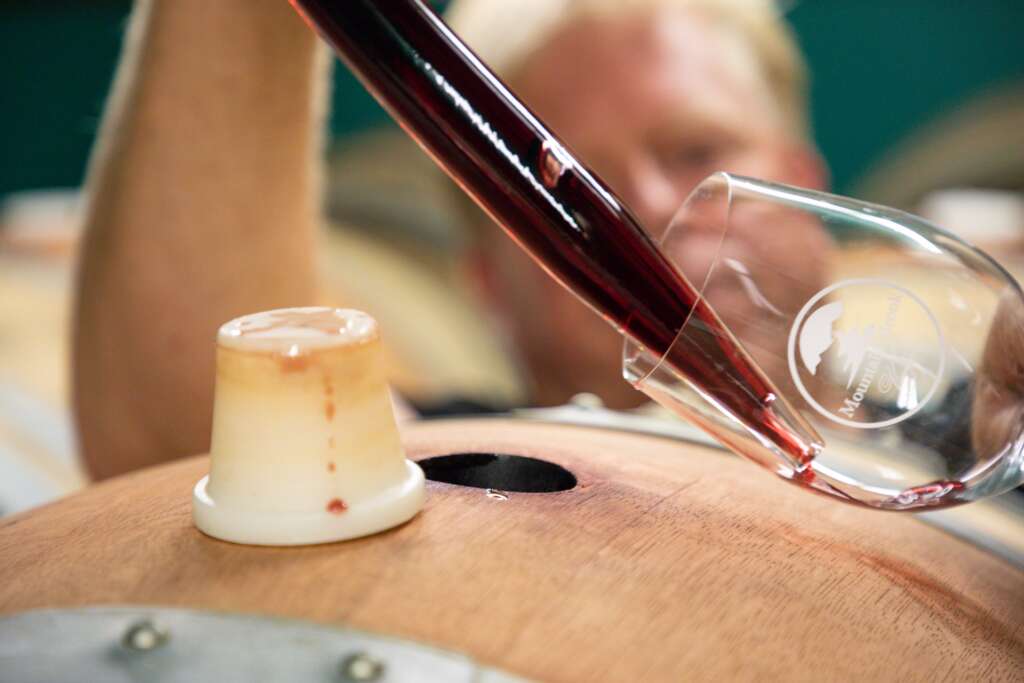 So now that you have had a brief introduction to the cellar, we invite you and your friends to join us for a barrel room tasting with the winemaker. Group barrel room tastings can be reserved through Mountain Brook Vineyards website. Private, more exclusive and intimate, barrel room tastings can ONLY be arranged through North Carolina's premier limousine service, Van in Black.
Cheers and welcome to the cellar! We look forward to hosting you soon!