I have noticed a trend lately that I believe may create a paradigm shift with the way corporate travelers look at short distance travel and the costs and hassle associated with flying. With the high costs of fuel, and as a result, the elevated costs for air travel, businesses are looking at either reducing the need for travel all together or alternate methods of getting places. Clearly the increased popularity of web based meetings (along with Covid) necessitated the adaptation of remote meeting tools like Zoom and Google Meet which can eliminate some of the need for travel but still, in many cases, there is just no substitute for being there in person. Would you hinge that deal of a lifetime on a remote meeting or would you show up in person to make your pitch? You know it would be better to be there in person, but it's too late to make affordable flight arrangements plus the team needs a little more time to prepare. If your client is not located within a 2-3 hour drive, then flying is your preferred method of transportation, but if they are "close enough", like say, Atlanta, then you have options, much better options!
Flying Isn't Your Only Option
Back to that trend that I have noticed. I receive numerous phone calls from corporations that need to get a small team (4-8 people) down to Atlanta or some other surrounding city in the area and the comment is that "flights are 3 times what they normally are". The excessive cost has caused them to look for alternative ways of getting their team where they need to be and they end up calling us. When you look at the combined costs and hassles associated with flying (getting to the airport, security, flying, connections and the final leg of the trip via rental car or Uber to the clients' door), our services are not only more cost effective for a group of 4+ people but there is also a huge benefit that first time clients are soon going to realize. Van in Black will not only provide door-to-door service for their team, but we will also give them a completely distraction free mobile office that they can use to collaborate and prepare for their meeting, sales pitch, or whatever task they are traveling to accomplish.
Van in Black…Your Mobile Office Option
Our luxury 12 passenger limousine vans are like having a meeting room on wheels. There have couches with tables, chairs, a refrigerator filled with waters, and a large TV screen that can be easily connected to a laptop for reviewing those slides or spreadsheets before your actual meeting with the boss or that super important client. We love hearing from clients that have booked us simply to get somewhere and discover this added benefit on the way to their meeting. They love the fact that they have the team all together in an uninterrupted / distraction free environment (away from the office) where they are able to review and discuss everything in the hours and minutes leading up to their big pitch. They also arrive feeling much more relaxed, hydrated, and better mentally prepared as we literally drop them off at the front door of their destination. They don't have to stress or rush at the airport or deal with the hassle associated with connections and/or rental cars / Uber rides, etc. that they would have to normally arrange. First time clients that experience this always have the same feedback on the drive home, "it was an awesome experience"! Driving the team in our van was a much more productive option for them versus flying.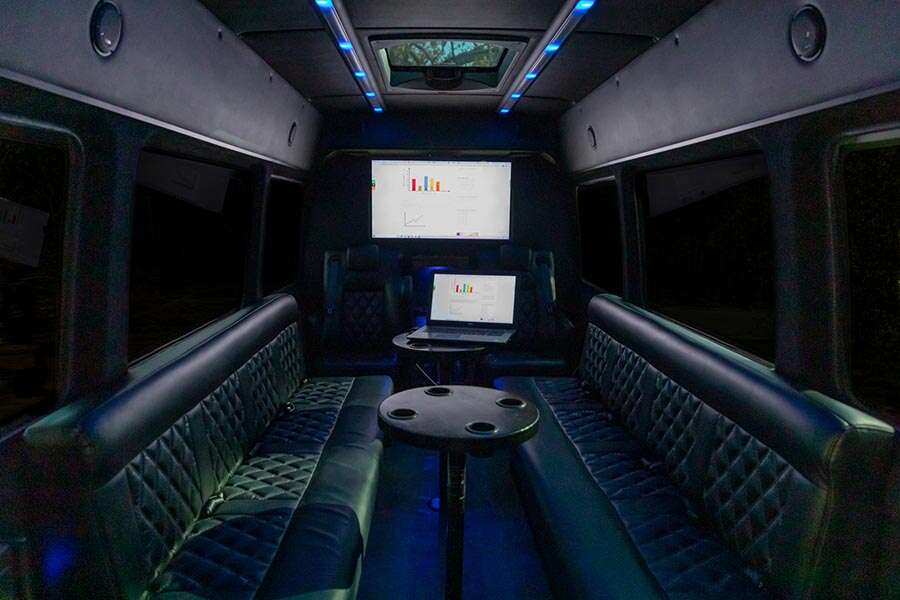 Consider Your Options
So the next time you need to get a team of people to a city that is within a reasonable drive of Charlotte, Asheville, or Greenville, consider something other than flying. Consider driving in a luxurious limousine van from Van in Black and give your office staff the competitive edge they need right before that big meeting or sales pitch with your client. It will likely be the most cost effective option too. Book your limo now!