The Hendersonville wine region of North Carolina, also known by the American Viticultural Area (AVA) designation of "Crest of the Blue Ridge", recently welcomed two new wineries to the region: Marked Tree Vineyard and Stone Ashe Vineyards. As of the Summer of 2020, this makes a total of 5 active wineries in the immediate Hendersonville area. It increases the number of active wineries in or around the Asheville area to about 15 depending on which areas you want to include. However you count them, whether "in or around Asheville", the number of wineries in the area are growing making an Asheville wine tour or Hendersonville wine tour both significant and respectable! With the recent growth, a winery tour in the area may take two days.
Both of these new wineries bring fresh ideas to the area and enhance what was already a great wine tour destination: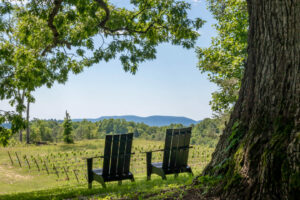 Marked Tree Vineyard
Located right on the Eastern Continental Divide, Marked Tree provides exceptional views in multiple directions and the design of the grounds and tasting room takes full advantage of this. Whether you are sitting inside at the bar experiencing a tasting or relaxing outside enjoying a bottle, there is not a bad seat in house. They also have a large list of about a dozen wines to choose from which is impressive for a new winery. The icing on the cake is the friendly and helpful staff which bring it all together. Any visit to Marked Tree Vineyard will be a good experience in our opinion!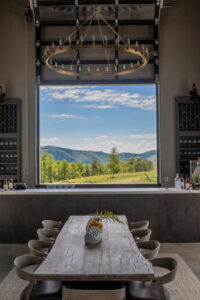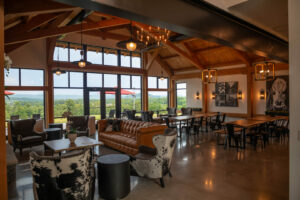 Stone Ashe Vineyards
The newest winery in the Hendersonville area having opened just a couple of weeks ago. Stone Ashe is a mountainside vineyard with exceptional views to the east. The opposite (west) view is of their vines as they beautifully slope up the mountain side. The tasting room building is top-notch and very inviting. Stone Ashe has an initial offering of 5 wines (4 whites and 1 red) including a Sauvignon Blanc that we thought was exceptional during our initial visit to the winery. The friendly staff does our state proud and will make you feel welcome too when you visit this gorgeous winery!
Van in Black have already started taking tours to these new wineries and the feedback we have received from clients has been outstanding. Book your Hendersonville wine tour with the Van in Black today and let us show you around this great AVA winery area of North Carolina!