This could also be titled "A Hike With Your Wine?". Either way you title this, I think you know where I'm going with this. Yes, there are a lot of wineries in the areas of North and South Carolina that we service but there are also miles of hiking trails (literally thousands of miles) that can be enjoyed too. These hikes are more than just a stroll through the forest. These are hikes to breathtaking destinations like mountain summits, waterfalls, historic structures, or epic scenic vistas. So why not combine these two epic experiences into one tour? All of these "hiking destinations" are also mingled throughout the state, just like the wineries, making them easily integrated into any vineyard or winery tour. Or, you can integrate wineries into a hiking tour (depending on the title that you want).
Why Do Both?
Why not? Seriously! You are visiting wineries for more than just the wine otherwise you would just visit a wine bar in the city. Not that there is anything wrong with a wine bar in the city, sometimes you want exactly that, but when you are visiting a winery with a vineyard attached, it may be because you also want to experience some natural beauty, the landscape of a vineyard. What could be more beautiful than a 150ft waterfall or a view from the summit of a mountain? Wine is all about pairings and these pairings can go beyond food. Pair your winery experience with an equally epic outdoor experience.
Another reason to do both is in the interest of time. Wine tours can sometimes involve a lot of wine and your body will need time to process all of the wine you will be tasting. While there is nothing wrong with feeling a little "happy" on a wine tour, you don't want to get to that point where you are drunk. This isn't what you want on a wine tour as the wineries may refuse service to an individual or group that is obviously intoxicated. They actually have a legal obligation not to serve if someone appears drunk (even if they have a designated driver or tour company like Van in Black). Combining your wine experience with a short hike or walk through the woods gives your body some time to absorb and process the alcohol and helps to avoid unwanted situations or conditions that might negatively affect your overall experience.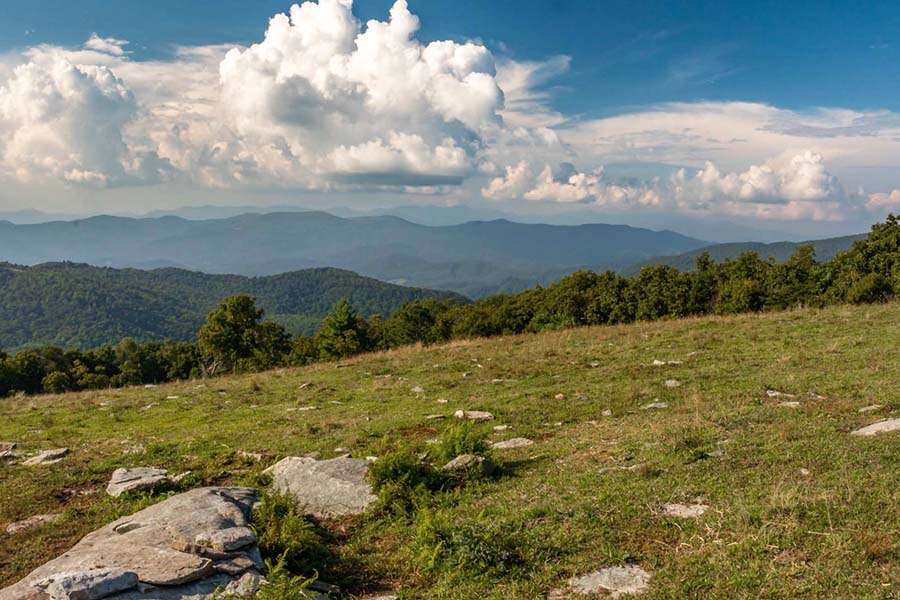 Some Ideas…
There are literally thousands of possibilities for this type of an experience pairing wine and hiking but here are just a few of our favorites.
Around Asheville
With the Blue Ridge Parkway running through Asheville and it being flanked on both sides by the Pisgah National Forest, there is no shortage of outdoor possibilities around Asheville or the vineyards that we typically visit just outside the city.
A very popular mountain hike is Bearwallow Mountain which is a quick 2 mile out and back (or up and down hike). The summit is bald and provides excellent views in multiple directions. From here, the Hendersonville and Tryon wineries are easily reached after your hike. This is a great early morning trek before getting started at the vineyards / wineries.
Pearson's Falls is a beautiful waterfall that is just a 15-20 minute detour from the Hendersonville and Tryon wineries. The hike (if you want to call it that) is an easy 1/4 of a mile walk on a mostly flat trail that leads to the base of the falls. The falls is on private property so there is a small entrance fee in order to visit but it is well worth the cost and effort to get there.
If you are up for a more challenging hike (but nothing too difficult) you can also take the trail to see Little Bradley Falls. This is a beautiful multi-tier waterfall with the trailhead just 3 miles off the interstate between the Hendersonville and Tryon wineries. The trail is a little longer and has a creek crossing but the view is definitely worth the effort.
If you want to sneak in a waterfall but are not really into hiking you can always have your driver swing by Shunkawauken Falls. This little known 150ft beauty is literally just feet off the road and is just minutes from the route to Parker-Binns Vineyard. The road up White Oak Mountain is not for the faint of heart but your driver is prepared to make the journey if you want to see it. As a bonus, because you have to go all the way to the top to turn around, you get epic views from the top of White Oak Mountain.
The Yadkin Valley
Asheville isn't the only area with epic scenery and hiking opportunities. North Carolina's largest wine region also has some excellent choices to be paired with your wine tour.
Carter Falls is a waterfall that has a trail leading to it from an area winery. Grassy Creek Winery has a nice trail system attached to it and one of the destinations from the winery is Carter Falls. You can also park a little closer to the falls if you want to shorten the hike. This beautiful waterfall is one that is not to be missed.
On the north end of the Yadkin Valley, on the way to Roaring River Vineyards, is the wonderful state park Stone Mountain State Park. This place is worth driving by even if you don't plan on hiking. The literal stone mountain is quite the sight to see and there are numerous hiking opportunities that include the obvious hike to the top as well as a waterfall and a few historical structures.
South Carolina
This list wouldn't be complete without mentioning some of the excellent hiking opportunities in South Carolina. These all pair very well with all of the new vineyards and urban wineries popping up in the upstate.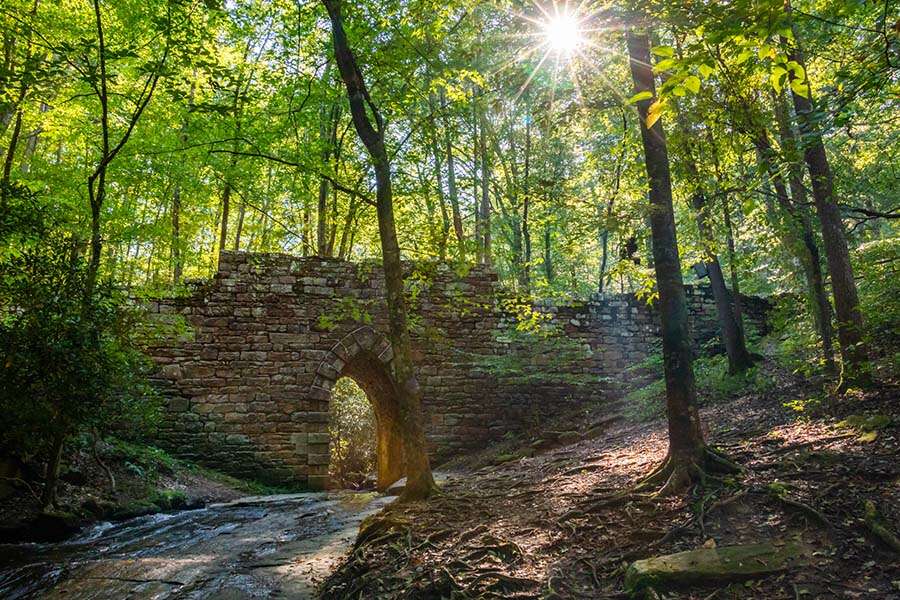 While it is not much of a hike, visiting the oldest bridge in South Carolina is always a fun stop. Poinsett Bridge never disappoints and is not too far off Highway 25 near Kennington Family Winery. A visit here is always a crowd pleaser and good for more than just a few pictures.
The historic Wildcat Wayside is an easy hike where you can view three waterfalls on a short loop trail. The first two waterfalls are also just feet off the road and easy to view without the hike. This is a little ways out on the Cherokee Foothills Scenic Highway past Eagle Mountain Vineyards but it makes for a nice detour, scenic ride, and change of scenery from the wineries.
If you desire a secluded spot that not too many people know about, might I suggest Slickum Falls inside the Eva Chandler Heritage Preserve. This very short loop trail hike through a beautiful section of the forest features a nice waterfall and views that rival Bald Rock except you don't have the crowds or the graffiti. Like Wildcat Wayside, this destination is a little ways down the Cherokee Foothills Scenic Highway but it worth the extra drive time to get there.
So Many Options…
This list could almost go on forever as there are so many great hikes and outdoor experiences available in the Carolinas. So think beyond a single themed tour and consider enjoying more that this area has to offer by pairing these items together. You won't regret it! As always, if you need help planning something like this or even if you just need a ride, we are here to provide the best service possible. Call us and we would be happy to discuss options and help you plan your next adventure.