Only two months after announcing the most recent addition to our fleet, the 14 Passenger Luxury Van, Van in Black is pleased to announce that we are adding another luxury option to our fleet, a true limousine configuration. Staying consistent with our previous announced partnership with LA West Coaches, a world leader in luxury coaches, we are super excited about this additional LA West van that we have acquired: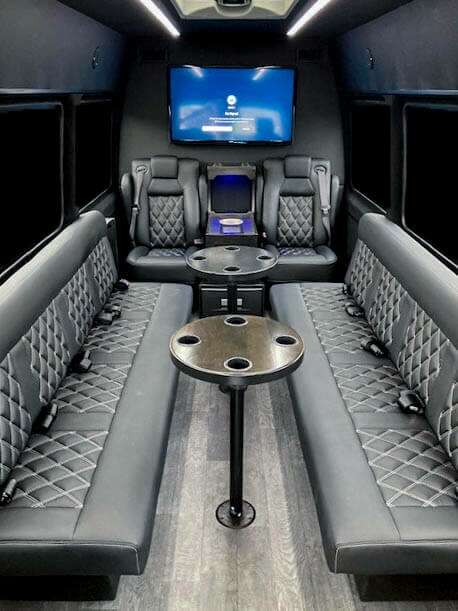 As you can see from the photo above this is not your typical van. This beautiful work of art from LA West is a limousine style van with tons of amenities like salon style seating, a television, wood floor, tables, refrigerator, beverage center, USB ports, and an absolutely killer sound system. You will feel like a celebrity driving around in this beauty!
This addition also stays true to our commitment to quality and safety that has been a pillar of our success. As stated previously, LA West is a certified Master Upfitter of Mercedes-Benz vans. Everything they do has been reviewed and approved by Mercedes-Benz to ensure that safety and the integrity of the van remains intact throughout their upfitting process. While the seating style in the van is impressive and varied, it is important to note that all seats have seatbelts available to every passenger. The van also conforms to all Federal Motor Carrier Safety Administration (FMCSA) standards that are required with our federal DOT and Motor Carrier(MC) number. All of this while producing a beautiful and exciting interior that will enhance every experience.
So book your adventure now to start enjoying this wonderful van. Whether you are seeking a wine tour, a pub crawl, a scenic drive, or are in need of luxurious wedding transportation, the Van in Black has your covered with our impressive and ever expanding fleet. This van is currently available to book now on our website for dates after September 23rd, 2021.