As winter tightens its grip on Western North Carolina and we hit the coldest time of the year, it is that time of the year to start thinking about and planning your Spring, Summer, and Autumn weddings. Western North Carolina is one of the premier wedding destinations in the nation and Asheville is the portal to all of this. Whether you are thinking of the large and eloquent wedding at the Biltmore Estate, a vineyard wedding, or an outdoor wedding with amazing natural scenery, Western North Carolina can produce and has numerous options and venues available to support your needs. North Carolina is definitely a hot-spot for weddings and is ready to meet the demand!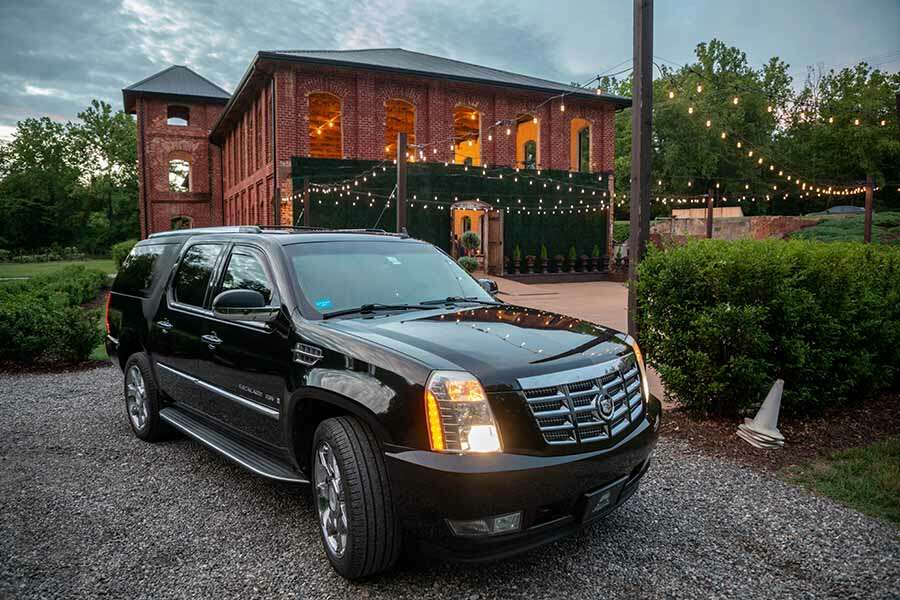 Wedding Transportation – The Challenge
Weddings by themselves are going to have unique and sometimes difficult challenges when it comes to transportation. Whether you are just wanting a stylish getaway vehicle for the bride and groom or something for all of your guests so that they can enjoy the big day and celebrate without the worry (or liability!) of driving themselves after the party, coordinating everything can be somewhat of a logistical challenge. When you also add in some of the unique area challenges that are associated with weddings in Western North Carolina, the challenges can be somewhat daunting for everyone; especially for someone not from this area who is trying to plan everything remotely. But don't worry! We are here to help and have the vehicles, experience, and expertise to help you navigate these issues. What are some of the issues?
The Terrain
Western North Carolina is a very mountainous region. This is one of the main reasons why it is so popular for weddings. The mountains here are absolutely beautiful! It is a thing here. We love our mountains. They are gorgeous, untouched, and very rural and remote. All of the things that make them beautiful, make them difficult from a transportation perspective. They can be, at times, very difficult to get to and limit the types of vehicles that can reach some of the more remote venues. Many venues, in fact, are just not reachable by any type of a bus or mini-bus that can seat a large number of people. The terrain also makes it risky for your guests who are not from the area or used to driving on these types of roads. Especially after a long day where some libations may have been involved. Van in Black, however, can help with this problem as our vehicles can usually reach these remote locations without issue. We have actually yet to encounter a venue that we can not reach with our Sprinter vans. These vans are large enough to seat a good number of people (up to 14) but not so large that they exclude themselves from these types of venues. They are the perfect type of vehicle for a mountain wedding and our drivers have plenty of experience driving these roads. All of our luxury SUVs (maybe the getaway car?) also have 4 wheel drive and higher clearance for easily getting to the most remote areas of the mountains. If the terrain has you worried, Van in Black can check this off the list things you need to worry about!
Distances
Another common issue in this area is the distance from the venue to some of the local hotels. It is kind of the same issue with the terrain described above. The thing that makes the venue beautiful and attractive is the same thing that creates the problem. In this particular case, you have this beautiful wedding venue that you need to get your guests to but the hotels are 45 minutes away. This would be a 90 minute round trip for any type of a shuttle service that would be making multiple trips. This is a big problem when you are trying to get everyone there for the start of the event and can also be a problem when you are trying to get everyone safely back to the hotel at the end of the night. This problem is compounded when you run into the terrain issue described above and you can't get a large bus or even a mini-bus into the venue. While this is an issue that really needs to be considered early in the planning stages of transportation for your wedding as it can greatly affect the budget or types of options you want to provide your guests, Van in Black can help with everything from answering questions and providing estimates during the planning stage to actually supplying multiple Sprinter vans to transport large numbers of people. Our fleet is large and ever expanding! We also have relationships with other reputable transportation providers in the area to meet the needs of the most demanding transportation requirements. If the "distance" issue is something you are encountering for your Asheville area wedding, give us a call and we will be glad to help you out.
Insurance/Legalities
This is something most people don't consider during the planning stages of a wedding but it is something that needs to be mentioned so that you are aware of the issue and any potential "gotcha's" that might come up. Many of the more established wedding venues will require that all of your vendors carry specific insurance policies and liability limits. Sometimes they don't request this information until a week or two before the event and if your transportation provider doesn't have the correct coverage you can be in for a big surprise and left scrambling for a provider that can comply with the specific requirements. The other issue we see from time to time is the need to cross state lines due to the close proximity of some of the venues to neighboring states. Not all providers can legally cross state lines and this can either be a problem when it is discovered that they will need to cross state lines or a risk when they decide to do it anyways. When working with us, you don't have to worry about either of these issues. Van in Black maintains a federal DOT/MC number and is fully capable to cross state lines and carries insurance that exceeds the federal requirements (which is usually more than what the venues want to see). We have no problem producing a certificate of insurance for any venue and can provide it immediately when requested. Many of the venues in the area, however, already have it on file and won't request it from us or you. This also should provide you with the peace of mind that Van in Black has you and your guests covered when enjoying our services.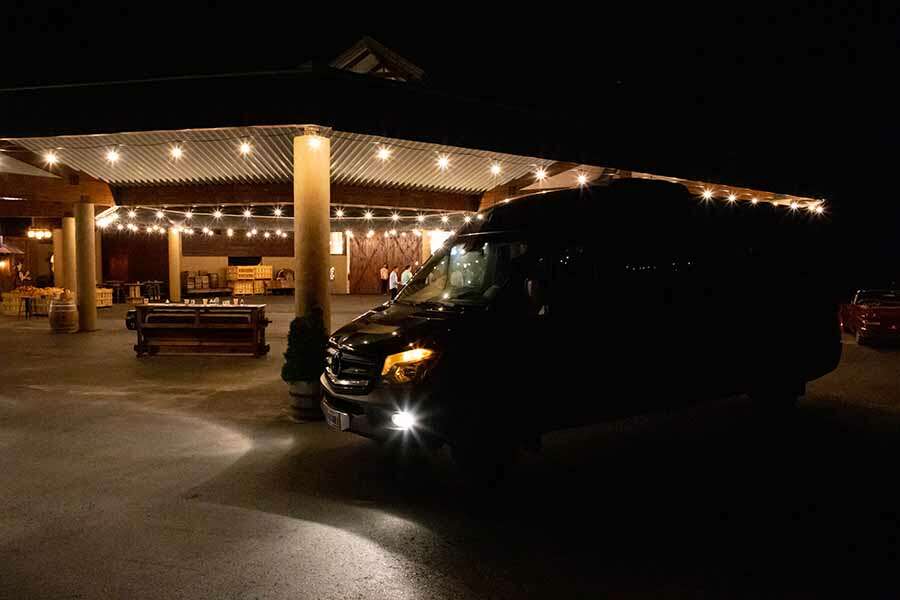 Service – The Icing on the Cake
In addition to some of the logistical challenges listed above, the unspoken challenge with any service based company you choose to work with is the level of service you expect, versus what you are going to receive. When you choose to work with Van in Black, you will be working with the best in the industry and can rest assured that we will do everything in our power to make sure that our contribution to your big day is perfect and one less thing you have to worry about! Give us a call today or contact us via our website so that we can begin discussing transportation options for your wedding day.
Beyond the Wedding Day
All too often your wedding transportation requirements go way beyond just the day of the wedding. Whether it is the rehearsal dinner, bachelor party, bachelorette party, or just getting everyone to and from the airport, Van in Black is here to support those needs as well. Just give us a call to discuss what we can do for you!