Happy New Year everyone! 2022 was a record year for us and we are really excited to see what 2023 has in store for us! We figured we would start things off with a bang by adding another limousine van to our fleet. This will be our second up fitted van with the limousine configuration which includes a television, refrigerator, couches, tables, captains chairs, and the bus portal door for easy entry. It is by far the nicest configuration option in our fleet; check out a picture of the inside of this beauty: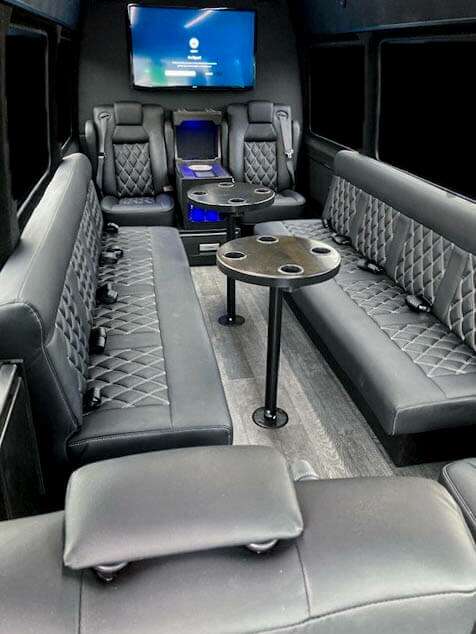 This is almost an exact copy of our existing van with a few minor configuration changes/improvements. The most notable difference is the additional storage that is available under the couches. Most of the other changes and improvements are very minor and hardly noticeable. This is another van from our upfitting partner, LA West, which is a world class leader in building luxury Sprinter coaches. This marks our third custom van from LA West and we can definitely say that it will not be our last. The quality of their vans is unmatched in the industry and we have been super pleased with the ongoing relationship we have with them. They create a superior product, they stand behind their product, and they are conveniently located in Statesville, NC. Repeatedly using LA West is a win-win-win in our opinion!
This limo van, like all of our other vans, conforms to all federal, state and local laws and regulations. All seats have available seat-belts and the design has been reviewed and approved by Mercedes-Benz. This van is truly a dream to drive and all passengers will feel like a rock star! (Even the Rock Stars feel like Rock Stars!) This new van is available for immediate booking on our website so book your 2023 adventures starting now while there is still availability!