It may seem hard to believe, but the holiday season (the most wonderful time of the year!) is just around the corner! With this season comes all of the fun, excitement, tradition, and good times that everyone welcomes and always looks forward to each year. A newer event that has quickly turned into a holiday tradition and major attraction in the area is the Christmas Light Show at the Tryon International Equestrian Center. This started just a few years ago and very quickly turned into a holiday tradition for the area that draws in massive crowds. All for good reason too! If you have experienced it, then you know what we are talking about. If you haven't, then you are missing one of the greatest light shows and experiences of Western North Carolina. While we haven't seen this years show yet, expectations are that it will be even better as each year has been an improvement over the last. If you are interested in attending this spectacular event, you can get more information and purchase tickets by visiting the Winterfest page on the Tryon International Equestrian Centers website. If you want to visit the lights in style this year and have someone else handle the driving, then we have some suggestions for you…
Holiday Wine & Lights
As with previous years, Van in Black has partnered with Mountain Brook Vineyards to provide ticketed tours of the lights that depart from the vineyard and include a glass of wine for the ride. Since we are a legitimate DOT regulated, "for hire" vehicle, you are allowed to have wine as a passenger onboard any of our vehicles. So, if you want to enjoy some wine while you enjoy the light show, this may be one of the only ways for you to combine the two. You would also have the added comfort of one of our luxurious Mercedes-Benz vans that also have gigantic windows for you to see and enjoy the lights. It is definitely the best way to see the lights in luxury (in our opinion)! We are only offering this experience on select dates and tickets can be purchased here.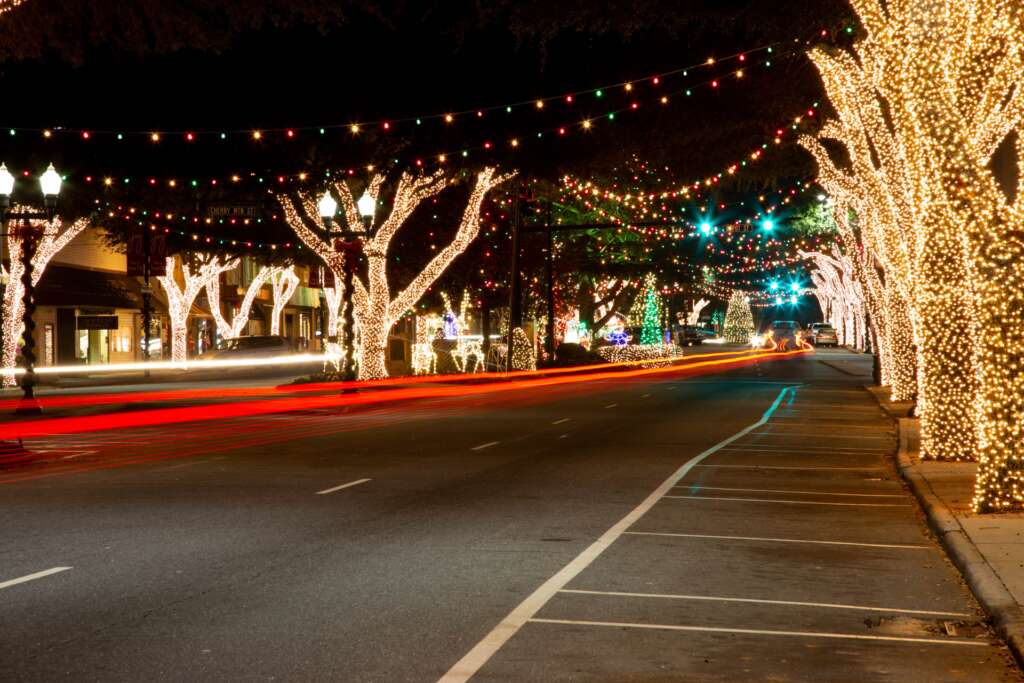 Book a Van For Your Group
While the ticketed events with Mountain Brook are only on select dates, you could always book a van for any dates we have available on our calendar and enjoy the lights in a vehicle exclusive to your group. Maybe you have a large family with everyone in town for the holidays or just want to go out with a bunch of friends? Our vans can handle group sizes up to 14 people with everything from stock vans up to full on limousine style interiors. We could also pair this with a visit to the local Tryon Wineries or Breweries if you want to make a day of it. If you book a private vehicle, you could also add on a drive through Rutherford County's famed Forest City Lights which feature over a million lights! Whatever you need this holiday season, when it comes to transportation, we are here to help.
Make your reservations early as things tend to sell out quickly.