How big is it? It is so big that, in theory, if you wanted the van to pick you and your Smart car up in Charlotte and drop you off in Asheville, it could happen: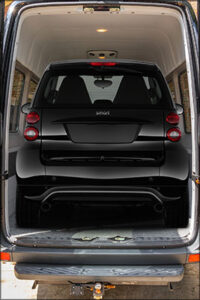 Keep in mind that this is only in theory and no Smart cars were harmed in the making of this blog post. A more realistic picture of what the van can carry (in addition to 12 people), would be something like this: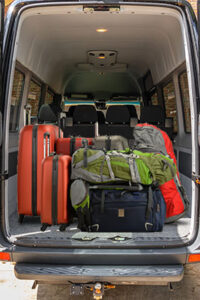 With 70 square feet of storage in the back of the van, completely separate from the passenger area, there is plenty of room inside the Van in Black for friends and family, luggage, shopping bags, Smart cars, or whatever you want.  Store it all safely in the back while the passengers ride in comfort up front.  When it's time to unload, it's super easy, your driver will take care of it for you!  But if you want to help, you can stand upright inside the van to grab luggage or move things around.  The van is 6 foot 6 inches high on the inside! So whatever your need, the Van In Black can handle it with style and in comfort, offering plenty of room for you adventure.  Call us today to plan your next excursion!