Van in Black is pleased to announce that we have expanded our fleet once again with the addition of 2 brand new Mercedes-Benz Sprinter vans. These two additions bring our fleet size to 10 which is a proud milestone for us since we only started this business in 2018 with one man and a van. We have not only survived the numerous challenges that have been thrown at small businesses over the past few years but we have actually thrived and have seen substantial growth over this timeframe. There was a global pandemic, the near tripling of fuel costs, and the almost impossibility of getting new vehicles due to supply chain disruptions and yet, here we are, with 10 vehicles in our fleet; the majority of which have been added in the last 18 months. We like to attribute this growth to our customers who have responded favorably to our offering of quality, safe, and affordable luxury transportation for Western North Carolina and the Upstate of South Carolina. So thank you to our customers and repeat customers who have trusted with your tour and transportation needs. We also could not have done this without our amazing employees who deliver quality customer service to our clients. We have the best clients and employees! Thank you, thank you, thank you!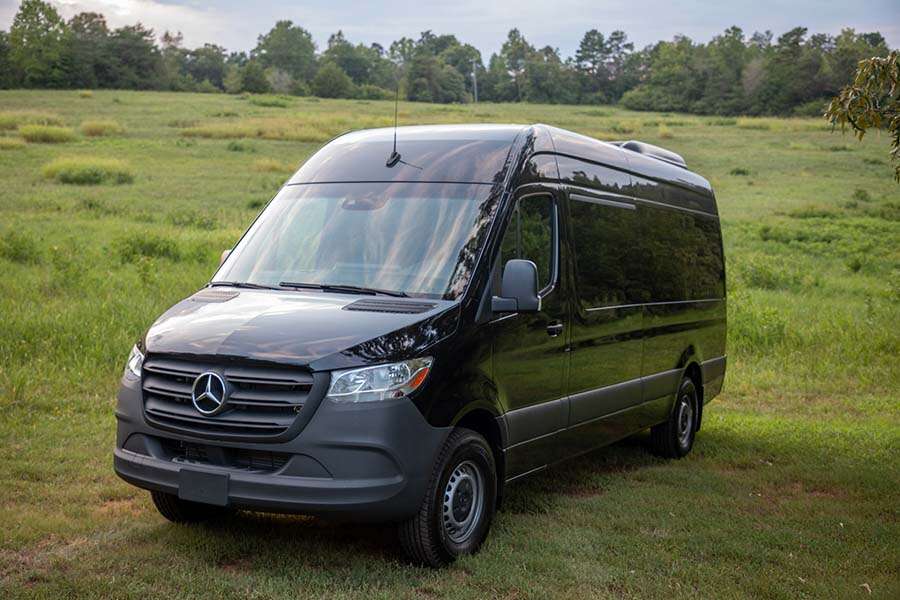 Van #1…
Our first van is a black standard 14 passenger (not including the driver) Mercedes-Benz Sprinter van that will become the third standard 14 passenger van in our fleet. These are great all-around work horses that can move a large number of people in both style and comfort. This vehicle is perfect for a wine tour with a large group or wedding transportation when you have a large number of people to move.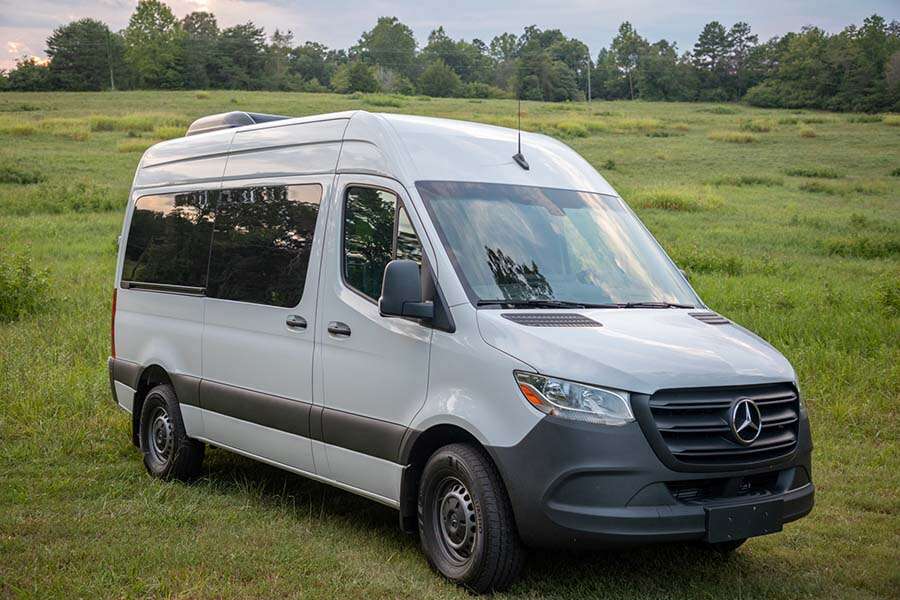 Van #2…
The second van comes with a story and is a little bit different than every other van in our fleet. It is a white (yes, white) 11 passenger Mercedes-Benz Sprinter van that will become the second 11 passenger van in our fleet (remember that our passenger counts don't include the driver). So, you are probably asking yourself, why would a company called "Van in Black" have a white van in their fleet? This is where the story comes in. I am not sure if you have noticed lately but new vehicles have been very difficult to get. Passenger vans from Mercedes-Benz are even more difficult to get. They have actually been almost impossible to get even in the used marketplace. We had multiple vans on order for over a year and, up until last week, we had no idea when we were going to receive them. Our salesman from the local Mercedes dealer gave us a call about 2 weeks ago to inform us that he still had no idea when our black vans were going to show up but that he had a white 11 passenger van arriving within the next week or two. We told him we would take it as a white van was better than no van (it's what's on the inside that counts…Right?). Finally we were going to be getting another van and we were super excited to receive it. Much to our surprise, however, when he called to tell us that they van arrived he also told us that EVERYTHING we had on order arrived at the same time. Even the chassis van we had on order to be up fitted! We said we would take everything as we were happy to get whatever we could and welcome it to our fleet. So yes, we have a white 11 passenger van in our fleet but the windows, trim, and tires are black so we are going with that. This van is perfect for smaller groups that don't need to spend as much on a 14 passenger van but still want to have a group outing somewhere. It also makes a perfect airport shuttle as there is room for plenty of people with luggage.
Stay tuned…We are not done yet!
It has been quite a ride for us (yes, I went there) and we are not ready to rest or slow down at 10 vehicles in our fleet. We expect to have more fleet announcements before the end of the year as we have more vehicles in the hopper being up-fitted by our favorite luxury coach builders – LA West. We also have some exciting new classes of vehicles that we hope to announce soon; although it may be next year before we can announce these exciting additions…Stay Tuned!